As we embark on the first fiscal year (2021-2022) of the new decade, we would like to extend our gratitude to all stakeholders for their continued support of the SMHFC. It is their confidence in the business that has allowed us to reach our current milestones.

Last fiscal year was an extraordinary year for all of us with the uncertain outburst of pandemic and related lockdown. While we dealt with a plethora of challenges, on the hindsight, it offered immense learning to sustain business continuity. More importantly, the strengthening of our commitment to customers in the EWS/LIG segment, as the pandemic has brought to light the need for an essential home and hygiene for all.

Business Impact
On the business front SMHFC exhibited a calibrated growth (18% y-o-y) with 20K+ active EWS/LIG segment borrowers, at the same time improving its profitability over last year. All this while keeping portfolio quality in control at GNPA of 1.78% and maintaining the capital adequacy ratio (CRAR) at 35.93% with paid-up capital of INR 168.5 cr. as on March 31, 2021. Refer SMHFC figures in the illustration.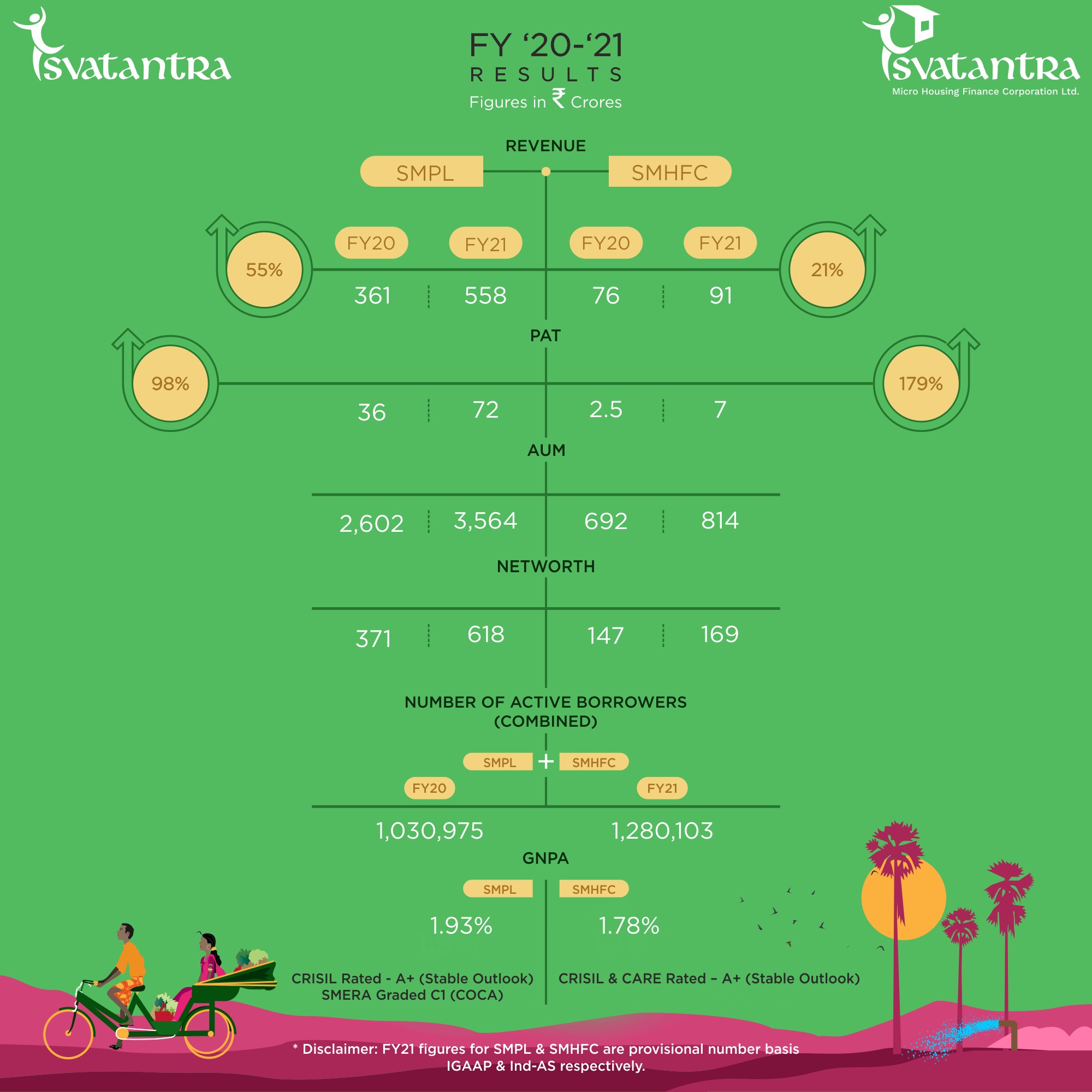 More information on Svatantra Microfin Pvt. Ltd. www.svatantramicrofin.com

Initiatives that differentiated SMHFC in the previous fiscal:


SMHFC was amongst the only few housing finance companies which managed deft liquidity position and did not approach any of its lender for moratorium, while extending the same to almost all its borrowers. SMHFC maintained a healthy liquidity position.


SMHFC with its understanding of its customers, made regular calls to its customers in the initial months of pandemic and took an account of their well-being and capability to pay, basis which the company put NACH mandate. This helped avoid penal charges to be levied on customers.


To support its EWS/ LIG self-employed customers, company diversified and launched new products to support life and livelihood of its customers, including offerings such as commercial property loans, PMAY (viability gap funding) self-construction loans, loan against property, etc.


Strengthened digital platforms (besides e-NACH) for the ease of EMI payments.


Entered the states of Tamil Nadu (Chennai and Coimbatore), and Odisha as new states.


Pandemic impact and SMHFC's approach:
The combination of the resilience of the EWS/LIG customer segment involved in essential part of economy, multiple earning members in family and close to 100% organic book, has helped SMHFC to sustain portfolio quality. Collections figures stand testimony to the stated, even when the country was in a complete lockdown during early months of FY21, collections improved from 77% to as high as 98% by March 2021.
The specific initiatives include:
Seamless operations and Healthcare:
a. As the entire country grappled with the second wave of COVID-19, the company's top priority remained employee and client safety.

b. SMHFC created a seamless work environment supporting work from home through infrastructure support at home of many employees.

c. A health monitoring mechanism was set up with real-time information and a dedicated task force for proactive action in emergency management.

d. Special monetary coverage for employees taken to financially support them during emergencies.

e. At this time, as a result of the second wave of COVID-19, the company has not experienced significant business disruptions.


Customer engagement and support
a. A special client engagement campaign has been conducted to teach them about financial responsibilities and health awareness.


Community outreach
a. The company continues to support the local administration in the pandemic through vital contributions in the form of masks, sanitiser and other medical aids.


We remain confident that the waves will pass and will have major medium to long term impact on business as we continue to further the cause of financial inclusion and empowerment of masses. Image source-SMHFC