Commercial Loan

(Non Residential Property Loan)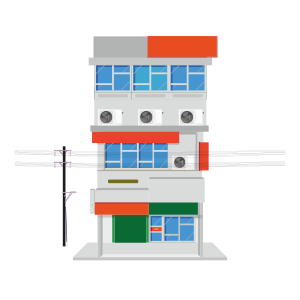 Avail loan to purchase shop or office
Maximum Loan of Rs 35 lakhs and maximum tenure of 15 years
Get loan upto 70% of property
Loan Terms
Loan Amount
Minimum Rs. 1 Lakh & Maximum Rs 35 lakhs
Tenor
Maximum 15 Years
Interest Rate
13%* onwards
Processing Fee
2%+ GST of the loan amount
Prepayment Charges
Nil.
Cheque Bounce Charges
Rs. 500 + GST per event
Statement Charges
Rs. 500 + GST (In case of hard copy is requested)
Late Payment Charges
2 % per month on the amount due
Document Retrieval Charges
Rs. 500 per document or Rs. 1000 for all documents + GST
List of Documents (LOD) / Foreclosure Letter Charges
LOD - Rs. 500 + GST Foreclosure Letter - Rs. 500 + GST
Incidental Charges for recovery of delayed payments
At Actuals
Cheque Handling Charges
Rs. 150 + GST per transaction (only for overdue collections)
Cash Handling Charges
Rs. 300 + GST per transaction (only for overdue collections)
Loan to Value
Maximum 70%
Security
Equitable Mortgage (by deposit of title deeds) on the property being financed. A registered mortgage may be insisted upon wherever necessary.
Repayment
Through customer's electronic standing instruction (NACH) for all Equated Monthly Installments (EMIs)
Other Conditions
SMHFC will facilitate customers to take a mortgage redemption policy through SMHFC's tie up with HDFC Life. The exact insurance amount will depend on the age, loan amount & loan tenor.