Loan Against
Property (LAP-Commercial)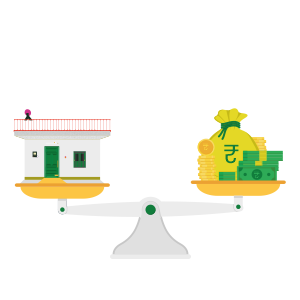 Loan Against Property (LAP-Commercial) is applicable to the customers, who wish to avail loan mortgaging their commercial property.
Get loan of upto Rs 35 lakhs with maximum tenure of 15 years.
Eligibility & Documentation

As applicable, we at SMHFC understand that every customer has varied needs, sources of income and documentation availability. We provide tailor-made solutions based on customer requirements. The final eligibility of a customer is decided on a number of factors including, but not restricted to income stability, repayment capacity, past credit record, and positive verification.

Rate & Charges

Loan Terms
Loan Amount
Maximum Rs. 35 lakh.
Tenure
Maximum 15 years.
Interest Rate
13.5% onwards

Processing Fee
2% - 3% (+GST) of the loan amount
Prepayment Charges
NIL
Loan to Value
70%.
Security
Equitable mortgage (by deposit of title deeds) on the property being financed. A registered mortgage may be insisted upon wherever necessary.
Repayment
Through customer's electronic standing instruction (NACH) for all Equated Monthly Installments (EMIs).
Other Conditions
SMHFC will facilitate customers to take a mortgage redemption policy through SMHFC's tie up with HDFC Life. The exact insurance amount will depend on the age, loan amount & loan tenure.
To read document retrieval and other charges, Click Here

Swipe Table
Rate / terms could be subject to change at management's discretion
Get In
Touch
Planning to take a loan
Get our SMHFC App
Reach to our toll free no.
Explore Our Similar
Products