Loan Against
Property (LAP)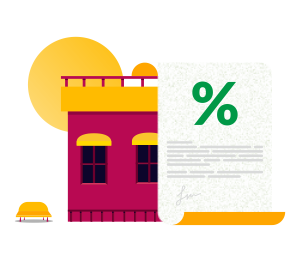 Avail loan by mortgaging your residential property.
Get loan of upto Rs 25 lakhs with maximum tenure of 15 years
Loans available fo the purpose of business, children's education, wedding or any other personal use
Loan Terms
Loan Amount
Minimum Rs. 1 Lakh & Maximum Rs 25 lakhs
Tenor
Maximum 15 Years
Interest Rate
14%* onwards
Processing Fee
2%+ GST of the loan amount
Prepayment Charges
Nil.
Cheque Bounce Charges
Rs. 500 + GST per event
Statement Charges
Rs. 500 + GST (In case of hard copy is requested)
Late Payment Charges
2 % per month on the amount due
Document Retrieval Charges
Rs. 500 per document or Rs. 1000 for all documents + GST
List of Documents (LOD) / Foreclosure Letter Charges
LOD - Rs. 500 + GST Foreclosure Letter - Rs. 500 + GST
Incidental Charges for recovery of delayed payments
At Actuals
Cheque Handling Charges
Rs. 150 + GST per transaction (only for overdue collections)
Cash Handling Charges
Rs. 300 + GST per transaction (only for overdue collections)
Loan to Value
Maximum 50%
Security
Equitable Mortgage (by deposit of title deeds) on the property being financed. A registered mortgage may be insisted upon wherever necessary.
Repayment
Through customer's electronic standing instruction (NACH) for all Equated Monthly Installments (EMIs)
Other Conditions
SMHFC will facilitate customers to take a mortgage redemption policy through SMHFC's tie up with HDFC Life. The exact insurance amount will depend on the age, loan amount & loan tenor.
FAQs
What is a Loan Against Property (LAP)?

It is a loan which is taken by mortgaging your self owned residential property. You can use this loan for any of your personal or business use. Existing Loan Against Property (LAP) from other banks or financial institutions can also be transferred to SMHFC.